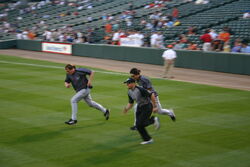 Headline text
Edit
This is a list of media outlets in Toronto.
Daily Newspapers in English
Edit
Daily Newspapers in Other Languages
Edit
Daily Commuter Papers
Edit
Alternative Newspapers
Edit
Community Newspapers
Edit
Metroland Publishing is a subsidiary of Torstar Corporation which publishes the Toronto Star. Metroland publishes a series of neighbourhood papers three times a week. These newspapers cover neighbourhood issues not otherwise covered by the large dailies. They are distributed free of charge and have captured a large portion of the neighbourhood flyer market. The newspapers are:
Independent community newspapers include the Town Crier and Post City Magazines chains, The Bulletin and the Annex Gleaner.
Marklander, Since 1962, the Markland Homes Association has published 10 issues of the Marklander annually. This may make the Marklander, Toronto's Oldest Community Newspaper still in print.
[Top Choice Magazine](http://topchoicemagazine.com/)==Magazines==
TV Stations
Edit
OTA Channel
Cable Channel
Call Sign
Network
Other Notes
5
8
CBLT
CBC
19
2
CICA
TVO
41
3
CIII
Global
79
15
CITY
Citytv
For cable channels, see Rogers Cable lineup in Toronto.
FM Stations
Edit
AM Stations
Edit
National Media
Edit
Many of Canada's national media outlets also have operations based in Toronto.
Newspapers
Edit
Related Information
Edit
---
For more information on Canadian Media visit Culture.ca
For more information about Toronto independent shops & services, small & medium-sized businesses and a general directory, visit Toronto's Best Kept Secrets
Community content is available under
CC-BY-SA
unless otherwise noted.