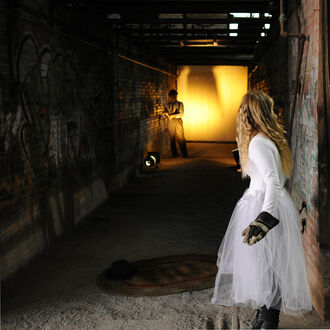 Returning for a third year, Words in Motion announces summer and fall performances of Memory in the Mud, a roving play that celebrates the lives of people who helped build Toronto in her early days.
In partnership with Evergreen Brick Works, Words in Motion has discovered and interpreted the stories of several fascinating yet unrecognized Canadians who at one time or another, worked or lived at the Brick Works.
"Memory in the Mud; Moving play captures fascinating history of the BrickWorks."
– East York Minor
"The best thing about this show is adults can have fun too, in fact both the kids and adults really seemed to enjoy the show."
-Mooney on Theatre
Audiences leave the presentation with a greater appreciation of where the bricks of Toronto's most significant buildings came from, and of the hardships and challenges endured in producing them. A production that has been a success in the past promises to be even more engaging this year by featuring more of the original historic architecture in the staging.
Details:
Location: Evergreen Brick Works  http://ebw.evergreen.ca/visit/getting-here
Show Dates: 
August
Wednesday August 7 1:00 – 1:45
Wednesday August 14 1:00 – 1:45
Sunday August 18 2:30 -3:15
Wednesday August 21 1:00 – 1:45
Sunday August 25 2:30 – 3:15
September
Sunday September 1 2:30 – 3:15
Monday September 2 (Labour Day) (11:30 and 2:30)
Sunday September 8 2:30
Sunday September 15 2:30
Sunday September 22 2:30
Saturday September 28 (Culture Days) (11:30 and 2:30)
Sunday September 29 (Culture Days) 2:30
October
Sunday October 13 2:30
Monday October 14 Thanksgiving weekend. (11:30 and 2:30)
Suitable for audiences of all ages.

Please visit http://ebw.evergreen.ca/whats-on/memory-in-the-mud for more details or feel free to contact:
Prathna Ramesh
Public Relations and Communications 
Words in Motion
Em: prathna.ramesh@mail.utoronto.ca
Tel: 647-381-7840
Tickets can be purchased at the Young Welcome Centre one hour before performance time. For group tickets, please contact Kathleen at kathleenpayne@sympatico.ca.