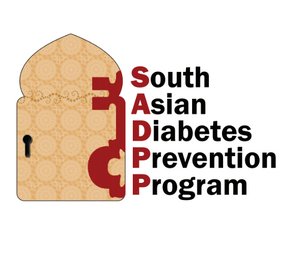 PROGRAM PROFILE
The South Asian Diabetes Prevention Program (SADPP) is an innovative project developed by Flemingdon Health Centre (FHC) in collaboration with Social Services Network and is funded by the Toronto Central Local Health Integration Network (TC LHIN) through the Aging at Home funding.
PROGRAM DESCRIPTIONEdit
Early Detection Clinics The program outreaches and conducts Diabetes early-detection clinics in the community using evidence based screening tool tailored for the South Asians risk factors: A first-step check-up to identify those who are at risk of developing diabetes. The same day a prediabetes awareness workshop is delivered.
Educational Workshops
Participants learn how to make lifestyle changes that are necessary to prevent diabetes. Participants are provided with the newly developed Diabetes Prevention Care Kit to further enhance their self management skills and information

Referral Services:
Those identified through our screening process to be at-risk of developing diabetes are referred to their family physician to complete the Second-Step check up and confirm if they are at high risk (prediabetes diagnosis). Those already living with diabetes are referred to management programs.
FLEMINGDON HEALTH CENTRE
10 Gateway Boulevard. Don Mills, ON M3C 3A1
Ph: (416) 429-4991 Ext 217 Direct Line: (416) 803-2813 Fx: (416) 429-9731
eMail: nstephens@fhc-chc.com Web: The SADPP Website
We conduct diabetes early-detection clinics and offers workshops around Diabetes prevention for the South Asian population in the community.Find out where you Stand! Come join us at FREE early-detection clinics and find our how you can get a copy of Canada's first Diabetes Prevention Care Kit for South Asians.To learn more, feel free to visit The SADPP Website